September 13, 2023
FREE KICKS Begins Work to Improve Environmental Governance of Football Supply Chain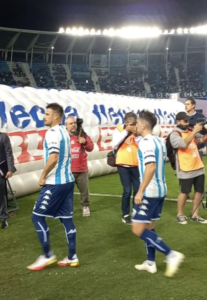 13 September, Pisa: Over 6 months have passed since the start of the FREE KICKS project. This period has been focused on the assessment phase of the environmental governance and management of the participating football organisations: Racing Club, Porto FC, Malmo FC, Real Betis Balompié and the Romanian Football Federation.
One of the key activities that is currently being conducted is the assessment of the environmental governance of their supply chains, to identify the environmental priorities of football organisations. Professional football organisations and clubs have a strong "indirect" environmental impact, from their collaboration with suppliers of goods and services that are needed in the organization of football events and in the management football infrastructures.
The assessment is being conducted by Sant'Anna School of Advanced Studies (SSSA), project leader, and it relies on two methods:
The first step of this assessment is to conduct an organisational analysis through a desk analysis of current management approaches of the supply chain: FREE KICKS partners provided documentation related to the supply chain structure, procedures and functioning to SSSA, to perform a preliminary mapping of existing actors and environmentally salient operations or processes connected to the management of the supply chain.
The second step of the assessment involves researchers from Sant'Anna conducting semi-structured interviewswith the procurement departments of the five sport organisations in the FREE KICKS project and with some of their contractors.
Interviews have been conducted with the purchasing department of Racing Club and will be conducted with the other partners during the month of September.
Once the state-of-the-art of the level of environmental management governance of the supply chain in the participating football organizations – i.e. the baseline scenario in terms of environmental governance capabilities and environmental impacts – has been defined, the project will identify the environmental governance needs and improvement opportunities for each sport partner, in order to inform the development of environmental governance tools.  Green governance and operational practices will be tailored for each participating football organization and included in their own 'Environmental Improvement Plan.'
The final aim of this activity is to improve the environmental governance of the football supply chain in the participating football organizations.
The results will be detailed in a specific report that will be uploaded on the project website. This report will be open and available to any other sport organization interested in undertaking environmental improvement actions of their supply chain, thus promoting replicability and cross-fertilization.