May 26, 2023
FREE KICKS Project Kicks Off in Argentina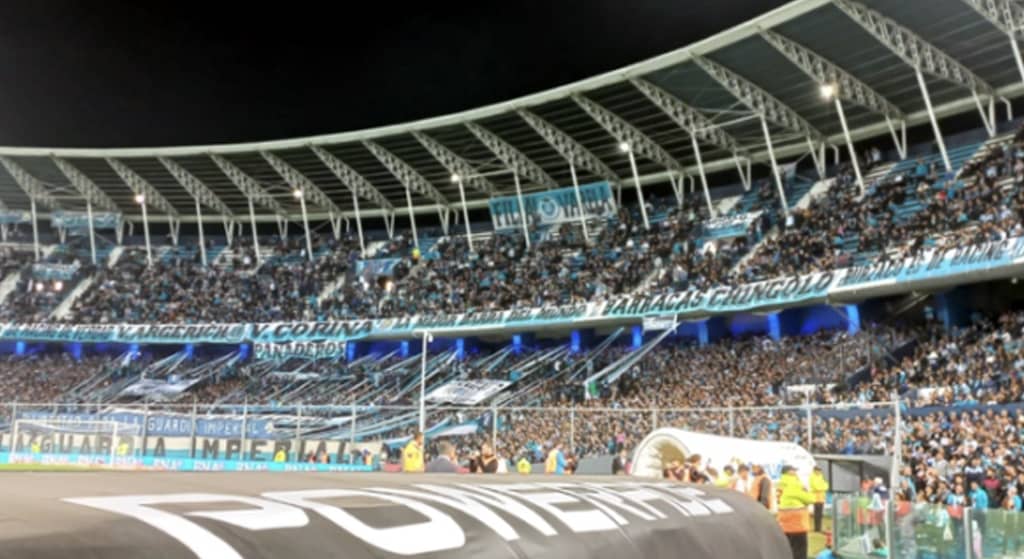 FREE KICKS Project Kicks Off in Argentina
The first activities for the FREE KICKS project have started in Buenos Aires, Argentina with Racing Club, one of the partners of the project and one of the most important Argentinian and South American football clubs.
The FREE KICKS project is co-funded by the European Union* and coordinated by the Sant'Anna School of Advanced Studies (SSSA). Project partners; FC Porto, Fundación Real Betis Balompie, Malmö FF, Racing Club, Romanian Football Federation, European Club Association (ECA) and Sport Positive, will address the topics of circular economy and environmental sustainability in football organisations.
In Buenos Aires, Tiberio Daddi and Alessio Novi from SSSA visited the Racing's facilities and the stadium in April 2023. The objective was to evaluate, through an on-site visit and interviews, the level of implementation of environmental management and possible improvement actions.
On-site discussions included the collection of functional data for the development of environmental indicators that will allow the organisation to monitor and implement its environmental performance, and the calculation of the environmental impacts of a Racing match, through the Life-Cycle Assessment (LCA) methodology, taking into consideration each source of environmental impact. This activity will be important to develop a case study to compare Racing Club's environmental impacts with that of a European club's football match.
FREE KICKS coordinators visited both the impressive facilities and stadium. In terms of facilities, Racing owns a training centre made of 11 pitches (Centro Tita Mattiussi). In this training centre, both the first team and young athletes train, but different sports are practiced here too; Tita Mattiussi can host up to 1300 athletes per day. Racing facilities also include the presence of a schools to cater for kindergarten, primary and secondary levels. The school hosts young Racing football players and other students, who must finish their secondary school education to be able to play with Racing. Racing offers to some athletes free accommodation.
Environmental initiatives here include LED lights across the whole training facility and the presence of solar water heating-systems. All the food is in line with sport activities and Racing offers vegetarian and vegan options.
The stadium Juan Domingo Perón has a capacity of 42.500 people. The stadium is well connected with the low-cost transportation system (buses and trains). Racing has implemented LED lights outside of the stadium and it has made agreement with the Avellaneda municipality to collect the waste inside and outside the stadiums during and after home matches.
Racing club is a not-for profit organisation, as it not only a professional football club but it serves as a social and cultural association for the whole Avellaneda area. Racing is indeed implementing several social responsibility initiatives and programmes to add value to the community.
There are three notable projects: Racing Sustentable, Racing Solidario and Racing Integrado.
Racing Sustentable aims at implementing environmental initiatives, for example, thanks to this project in the stadium there are now areas dedicated to waste separated collection.
Racing Solidario implemented only in the last year more than 100 social initiatives and campaigns.
Racing Integrado is an initiative which aims at helping disadvantaged children in practicing sports.
This visit provided SSSA with an incredible experience, provided by Racing Club. The Club is very advanced in terms of social sustainability initiatives. However, some improvement opportunities can be found regarding environmental issues. For example, waste collection could be improved in the training centre, renewable energy could be installed in all facilities, and a particular attention to plastic materials could lead to environmental benefits. All improvement opportunities will properly considered during the FREE-KICKS project, where Racing will develop environmental KPIs, calculate the environmental impacts of their matches, implement improvement actions to enhance its environmental sustainability and environmental campaigns to increase the fans' awareness.
To find out more about the FREE KICKS Project, visit: https://www.sportpositivesummit.com/free-kicks/ and contact us at info@sportpositivesummit.com
*Funded by the European Union. Views and opinions expressed are however those of the author(s) only and do not necessarily reflect those of the European Union or EACEA. Neither the European Union nor the granting authority can be held responsible for them.